This was published 4 months ago
Where rents have risen most as Melburnians chase a sea or tree change
House rents in some of Victoria's most popular regional towns have soared by as much as $80 per week over the past year, new data shows, as the desperate desire to make a sea or tree change continues during the pandemic.
Melburnians are seeking out the ultimate lifestyle with a bigger home and cheaper rents than those found in highly sought-after areas such as the Mornington Peninsula.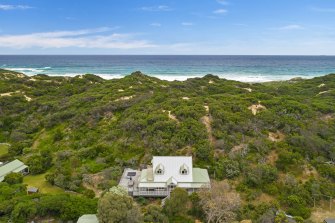 Rents in the popular seaside area, just over an hour from Melbourne's CBD, have skyrocketed over the past two years as people scrambled for a home close to the ocean during the worst of the coronavirus lockdowns.
In Mount Eliza alone, rents rose by 13.7 per cent over the year to December, to a median weekly rent of $850, Domain's latest rent report revealed.
"I think particularly we've seen such a growth in rent and population in the Mornington Peninsula that some people are now looking for a quieter area that's near to the coast [elsewhere]," Domain chief of research and economics Nicola Powell said.
People are compromising by moving further away from the city, to towns where they will have views of the ocean and a bigger home but may have further to travel back to the office.
"That's one of the key trends we've seen – the commutable distance people are willing to take a couple of days a week back to the city will be much longer than those who do it five days a week," Dr Powell said.
The biggest leap in rents in regional areas was in the Corangamite LGA, about a two-hour train ride from Melbourne. The area, which includes the coastal towns of Port Campbell, Peterborough and Timboon, saw weekly rents soar by 21.9 per cent, or $63 a week, to a median of $348.
Rents also rose in the Bass Coast's Cowes and Inverloch, jumping by 19.4 per cent to a median $430 and adding another $70 per week to rents since December 2020.
Likewise, on the popular Surf Coast near Geelong, rents were up by 15.5 per cent as the median hit $600. That added $80 per week to a tenant's rental bill and made it one of the most expensive areas to rent a house in regional Victoria.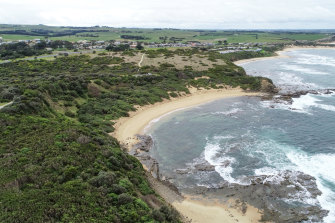 It wasn't only coastal areas that saw significant spikes in rental medians, with Horsham, close to the Grampians National Park, also clocking a big lift. Rents rose by 17.6 per cent over the year to December to a median of $350 per week.
Wes Davidson Real Estate property manager Joe Richardson, who works in Horsham, said the area was still seeing a huge number of inquiries for available rentals.
"It's just mad, it has been for the past 12 months," Mr Richardson said. "We have three property managers, and I'm the only one with properties available at the moment."
Mr Richardson said whenever a house was advertised for rent there were more than a dozen inspections and applications.
Some applicants from Melbourne were doing FaceTime inspections as they couldn't always get to the property, he said.
Property manager with Nutrien Harcourts Timboon, Donna Bedggood, said she wasn't surprised rents had flown in the Corangamite area given so many people were not only moving in to rent, but also to buy.
New developments had seen house and land buyers renting while they waited for their new home to be built, while others rented before finding an established home to buy.
Homes that did come up for rent were leasing within just a few days, she said.
About 25 per cent of all inquiries were coming from Melbourne with the other 75 per cent from local renters who were moving as landlords sold their homes to owner-occupiers.
"We don't have a lot of homes now because we have so many people coming onto the market," Ms Bedggood said. "I think it's the lifestyle here, and we are in a slightly lower price bracket, which makes it attractive."