Opinion
How bookshops kept us afloat through lockdown
I never knew how important bookshops were until I got published in the middle of a pandemic. I mean, don't get me wrong: I've loved bookshops for years and have the high-density bookshelves to prove it. But I hadn't fully appreciated the essential role they play in helping books find their readers, and readers find their books.
In many ways, I was one of the lucky writers in 2020. My debut book came out at the beginning of June, hitting that sweet spot between lockdowns in Melbourne. By then, Readings – like many bookshops – had digitally pivoted and I was able to have a joyous online launch. I even got to visit my local store, The Sun Bookshop in Yarraville, where I gleefully signed copies of my book and posed for photos. Although I had always felt like a writer, in that moment I was an Author with a capital A.
Of course, I didn't know then that those would be the last copies I would sign for four months. Nor did I guess that the rest of my Author experience, with its demanding schedule of online events and podcast interviews, would end up feeling like a long fever dream I'd had while sitting at my computer in my Ugg boots.
Meanwhile, all over Victoria, bookshops were still working hard to connect books and readers from behind closed shop doors. Unable to give in-person recommendations, host crowded events or carefully arrange books on tables, shelves or in windows, they did other things. They opened telephone hotlines. They posted reviews and photos on social media. They organised online launches, author talks and panel discussions. They delivered books by foot, on bicycles and in cars. They did whatever they could to keep themselves afloat. And in doing so, they built a sea of tiny life rafts for Australian writers. Grateful, I clung to whatever I could.
As Melbourne began to open up again, I joked on Twitter with fellow writer Kate Mildenhall about hiring a bus and filling it with authors whose books had come out during lockdown. "We can drive around Victoria, visiting our books and showing the bookstores our love!" we said. However, in our hearts, we knew that a bus-worth of overexcited authors cramming themselves into small spaces wasn't entirely in line with current restrictions and we started to imagine other ways.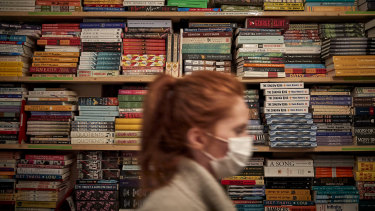 In mid-November, Kate and I met with another writer, Mandy Beaumont, at Northcote's glorious Neighbourhood Books to launch #VicBookshopBingo, created with the loving assistance of the Melbourne City of Literature Office. (If bookshops are an essential link in the Victoria's literary chain, then the Office is the oil that stops that chain from rusting.) The three of us bounced around the store, like children in a sweetshop – or even Authors in a bookshop.
And the next day, bingo card in hand, I made the trip out to Ashburton to visit The Leaf Bookshop. At 26.4 kilometres from my home, they had been way beyond my reach for months, but I'd felt their support nonetheless.
Inside the shop, life was adjusting to the New Normal with limits on customers and browsing times. I had bought the staff heart-shaped biscuits with "I Love Bookshops" embossed in crooked yet cheerful letters, and, through my mask, I asked for recommendations for my stepdaughter's Christmas present. "Something like the Friday Barnes series but older and set in Australia with a fun cover," I said and was graciously obliged.
The owners, Katy and David, told me that they'd managed to keep their heads just above water during the lockdowns, thanks to the support of their local residents. "But we missed the writers," they said.
I posed for their camera with my fledgling Authorly smile and signed the copy of my book that they miraculously still had in stock almost six months after it had been published. And even though I had never met them before, I knew I'd missed them too.
Imbi Neeme's debut novel The Spill is published by Penguin Random House Australia. Visit imbineeme.com/VicBookshopBingo for more information on how to show your love for Victoria's bookshops.