This was published 3 months ago
Community rallies to help find charity car stolen before Christmas
A Queensland charity car used to help raise $60,000 for sick and disadvantaged children before it was stolen before Christmas, has been found with minimal damage.
After a social media campaign to track down the thieves, strangers reported multiple sightings of the stolen ute to the owner and police last week before the vehicle was found abandoned on Saturday.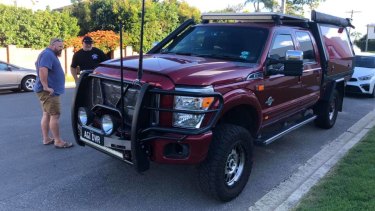 The red five-tonne Ford F250 with personalised plates AGI DVR was stolen from Kedron in Brisbane's north between 8.30pm on Monday and 9.30am on Tuesday.
During the past three years, the vehicle has been used to raise money at Variety Queensland events.
Vehicle owner Russelle Doyle, part of the Ipswich team Car 350, said after posting about the theft on Facebook, strangers contacted him and the police throughout last week with sightings of the car.
"The post was shared well over 1000 times between my personal page and Car 350 pages, it went onto interstate trucking pages ... it's amazing what social media can do," he said.
"We had random people reporting sightings to the police and me directly.
"The first three sightings were around the same area in Carindale, Wynnum and Tingalpa. Then we had one on Wednesday at Woolloongabba, before there was nothing for a few days after that.
"Then we found it on Boxing Day - a friend saw it on the side of the road, it was in Sydney Street in Kedron - which is only a few hundred metres up the road from where it was taken.
"It was a late Christmas present and a massive relief, there was a bit of external damage, but it was pretty minor compared to the worst case scenario - if we found it burnt out or totalled in a crash."
Mr Doyle said police officers came, searched the vehicle and found fake number plates inside before they took the vehicle away for forensic examinations.
"The entire contents of the cabin had been cleared out, but the police have towed it back to their forensic workshop to check for DNA and fingerprints," he said.
"They [police officers] were prompt and gave us as much information as they could."
Mr Doyle said the next charity event for the Ford F250 would be in August, but other events could pop up in the new year so he hoped to get the vehicle back on the road as soon as possible.
- with Jocelyn Garcia
Toby Crockford is court reporter for the Brisbane Times.