Black Summer fire ban fallout put Brisbane Festival in audit office's sights
The financial fallout from a high-profile Brisbane Festival event cancelled amid 2019's Black Summer bushfires raised the eyebrows of Queensland's Audit Office, which has since questioned the ability of the festival's government-owned parent company to pay its debts.
But the organisation insists that while it recorded a financial loss that year, driven by the cost of refunding tickets and reaching a confidential settlement with the French artistic troupe behind the Fire Gardens event, this did not leave it in the red.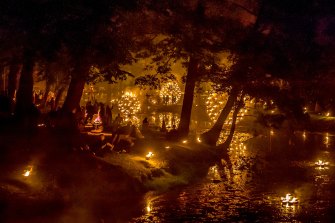 The situation has offered a rare glimpse into the books of the body and its parent company Major Brisbane Festivals Pty Ltd, which governs on behalf of twin shareholders Brisbane City Council and the Queensland government and is one of a handful of essentially public entities which sit outside standard public reporting and freedom of information laws.
A recent return to the audit office's jurisdiction, after an exemption in 2018-19 and in time for the latest annual check of local government finances, led to an emphasis in its opinion of the company's 2019 financial report and the "ability to pay debts as and when they fall due".
That year, outdoor artists Compagnie Carabosse had been lured to the city as part of the star-studded Brisbane Festival, set to act as a September bookend to the five-year term of then-artistic director David Berthold.
The French outfit intended to fill the City Botanic Gardens with 1000 individual flames illuminating a promenade through the park, the latest global landmark transformation in its then 20-year history including Stonehenge, the Kremlin and Melbourne's own botanic gardens in 2018.
But difficult bushfire weather which led to large fires across south-east Queensland that month and extensions to a total fire ban across the region resulted in the postponement and eventual cancellation of the event when its internationally touring artists could no longer push back their stay.
At the time, organisers said the festival was responsive to community concerns and sensitive to the "anguish" of those impacted by the fires, with ticketholders to be fully refunded.
In a statement this week responding to a series of questions from Brisbane Times about the company's financial situation, Brisbane Festival chief executive Charlie Cush said it had never slipped into debt since it was established in 2003.
"MBF recorded a financial loss in 2019, due in large part to the regrettable and unavoidable cancellation of marquee event Fire Gardens, as a result of a statewide fire ban. While unplanned, all losses stemming from this cancellation were covered by MBF's financial reserves and MBF did not incur any debt."
"Fire Gardens was to be presented exclusively by Brisbane Festival in 2019. The cost of staging the event, and its cancellation, was met by MBF. Due to Fire Gardens not proceeding, a settlement was made with Cie Carabosse, the terms of which are commercial in confidence."
After the festival's Riverfire fireworks drew a record crowd just days after the cancellation, Mr Cush said the international arts festival – one of the largest in the country – topped $4.2 million at the box office with more than one-fifth of its 500 performances selling out and attendance figures topping 1.2 million.
A joint statement from company stakeholders Arts Queensland and Brisbane City Council said it had "incurred costs associated with this programming in addition to refunding ticket sales".
"All decisions regarding Brisbane Festival's event scheduling were made by the Major Brisbane Festival Board," they said. Comment was sought from Compagnie Carabosse.
In its 2018 Operation Windage report, the Crime and Corruption Commission recommended council-controlled entities be deemed units of public administration to bring them under right to information laws and watchdog oversight.
Matt is a reporter with Brisbane Times, covering city council and urban affairs.