Bail refused for Taigum man charged with the death of his mother
Updated
first published at
The man accused of killing his mother, who died shortly after she was found with a bullet in her chest in a Brisbane home, has been remanded in custody.
Cristian Dino Lawlor, 22, fronted Brisbane Magistrates Court on Friday on charges including manslaughter and possession of weapons and explosives.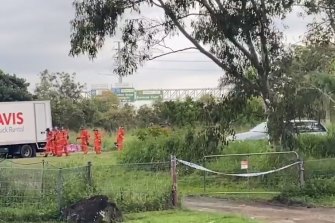 Mr Lawlor was arrested and charged on Thursday after his mother was found lifeless in their Taigum home on Saturday.
The court heard 53-year-old Giustina Katerina Lawlor was heard crying out before she was found in the laundry, with fluid around her mouth, by a family member.
Emergency services were called to the Muller Road property just after noon on Saturday, but paramedics were unable to revive the woman and she died at the scene.
A pathology report later confirmed a bullet was in the woman's chest. A .22 calibre firearm was also found in a bag under a blanket in the home.
The court heard Mr Lawlor told police he had cleaned the gun, which was unregistered, the day before the incident on May 8, and had left a live round inside.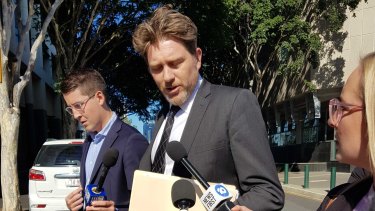 Representing Mr Lawlor, lawyer Nick Dore said there was no suggestion by police his client had shot his mother.
But prosecutor Mark Hughes said the prosecution's case was that Mr Lawlor did wilfully shoot the gun.
Magistrate Suzette Coates said Mr Lawlor told police that on the afternoon of the woman's death he located the firearm in the bag in the laundry basket outside the back door of the laundry, and he "checked the weapon and located a spent shell in the chamber and removed it".
"The circumstances of your mother's death relate to a weapon which was obviously yours and possessed by you and used by you," Ms Coates said.
Ms Coates denied Mr Lawlor bail and the matter was adjourned.
She said the facts around the incident were unclear and "jumbled" and it would need to be adjourned.
"It's impossible for me to make any determination of fact except to say that his mother is dead," Ms Coates said.
"It's a bit hard to say because the facts are imprecise ... and contradictory in essence.
"It's a serious charge and at no time did he make any disclosure to the police about any item that he might have had, it was only later when he was interviewed that he did that."
Mr Hughes said there was concern over Mr Lawlor speaking with his family who were witnesses if he was granted bail.
"And the fact that he attempted suicide on that night ... he should be remanded in custody for his own protection," he said.
Mr Lawlor was remanded in custody and was expected to appear in Brisbane Magistrates Court on June 21 on charges of possessing a category A rimfire rifle, methamphetamine, ammunition and a telescopic baton.
If you or anyone you know needs support call Lifeline 13 11 14, or Beyond Blue 1300 224 636.