'A river under my house': Suburban flash flooding during Brisbane storm
A tree fell on a parked car and a Queenslander home on Brisbane's southside had "shin-height" flash flooding on Wednesday evening after a short but intense storm swept across the state's south-east.
Homes and cars have been damaged across Brisbane by fallen trees, with Carindale resident John Reich telling Nine News he was inside his house when a tree fell on his car.
"We sat down waiting for the storm to pass so we could go out and next minute, I heard this noise, and then someone pulled up at the door and said a big tree has fallen on your car," Mr Reich told Nine.
"I came out. I wasn't expecting this."
The SES had 180 calls overnight for assistance, while Queensland Fire and Emergency Services received four calls for help from drivers stuck in water.
Within 20 minutes of the first drops falling, water was lapping at the wheels of cars parked in the driveway of a Yeerongpilly home, with one of the residents describing it as "a river under my house".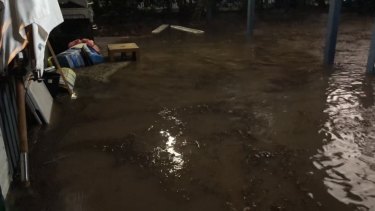 Pete English and Brittanie Dreghorn were in the middle of renovating their house when the storm struck, with wall sheeting, paint and other building materials at risk as the water started to rise.
"It was just rain, but very heavy, and heavy winds, it was raining fairly sideways," Mr English said.
"About 10 minutes after the rain started, I was looking over the balcony, and there was heaps of water running underneath.
"Then I wandered downstairs and within five or 10 minutes it was at shin height.
"It took me by surprise. We have had a few rain storms like that, but this was a weird one.
"It was heavy, but I just looked outside and went: 'Oh my god, there's a river under my house'."
Mr English said his home was in an overland flow area, but not a known flooding area.
"This has never happened before. I was talking to some of the neighbours and they said this maybe happened once in the last 10 to 15 years or so."
The rain reached the Brisbane CBD just after 4.30pm, with lightning preceding it and thunder starting shortly after the rain clouds opened.
The city skyline turned green as the system approached, then left hints of yellow in the aftermath.
According to the Bureau of Meteorology, Brisbane recorded almost 25 millimetres of rain between 4.30pm and 5.30pm, while Alexandra Hills in Redland City had almost 15 millimetres in 30 minutes.
Elsewhere, Wellcamp Airport near Toowoomba recorded more than 20 millimetres and Redcliffe, in the Moreton Bay region north of Brisbane, received more than 20 millimetres.
The weather bureau received reports of five-centimetre hail stones about 3.20pm near Toogoolawah, in the Somerset Region about 75 kilometres north-west of Brisbane.
The bureau said small hail was reported at Fairfield, in south Brisbane, about 4.40pm.
Maroochydore also reported hail, while the general Toowoomba region recorded hail about two centimetres.
The highest rainfall overnight was 54 millimetres at Upper Caboolture.

BOM meteorologist Livio Regano said the storms were "ferocious" and "violent".
He said there were no further storms predicted, but temperatures would drop coming into the weekend.
Beenleigh, Cleveland and Gold Coast line trains were suspended due to an overhead power line issue caused by the storm and evening commuters faced delays of up to 70 minutes.
Ferny Grove trains were also delayed by up to 15 minutes due to a storm-related signalling issue, according to TransLink.
Inbound buses on Coronation Drive in Milton were delayed by up to an hour due to congestion. All buses travelling through Brisbane CBD were delayed up to 20 minutes due to the wet weather.
Toby Crockford is court reporter for the Brisbane Times.