This was published 3 months ago
COVID-affected Pink Test means less money to help people like Luise
Luise Gordon didn't know she was ill until she got out of a physically abusive relationship. Then the bruises and lumps abated. Apart from one under her arm.
Now, diagnosed with metastatic breast cancer, the 38-year-old is living with the disease in the shadow of COVID-19. When she coughs in company she explains: "It's OK, it isn't COVID, it's the cancer."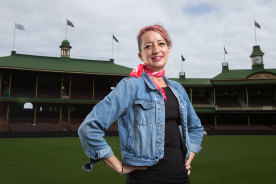 A reduced crowd will attend the SCG for the third Test on Thursday, and COVID-19 means there will also be no ambassadors collecting money to raise funds for specialist breast cancer nurses - who look after people like Luise - on Jane McGrath Day on Saturday.
McGrath Foundation chief executive Holly Masters said the past 12 months of the pandemic had damaged fundraising events.
"The reality is that it costs us around $14 million to fund our existing 154 McGrath breast care nurses, 20 of whom are dedicated metastatic nurses," she said.
"Last year we raised $1.2 million through the Pink Test. While the Pink Test might look a little different this year, we've set a goal to raise $1 million to fund seven McGrath breast care nurses who will support 700 families going through breast cancer."
Ms Gordon, from Marrickville, says her mum and sister planned to come down from Queensland for Christmas but border restrictions put paid to that. She managed to spend New Year's Eve with friends.
"I don't fit into the general mould of how you are supposed to behave," she says. "I don't wear pure white things or have a make-up free face. I don't feel like a standard 38-year-old."
Ms Gordon used to hate the colour pink. "Then when I got sick I had to wear some wigs ... The only wig I felt good in was a pink one. When my hair grew back and I could dye it I wanted to be pink. When someone would say, 'I love your hair', I used to say, "Cool, my oncologist gave it to me."
Ms Gordon has had a dedicated breast cancer nurse through the McGrath Foundation, Sam Moules, for about two years.
"The whole idea of what she expected from life was taken away from her, the opportunity to have children, future relationships and her work as a nurse," Ms Moules said. "Luise has been pushed out of her comfort zone and it has made her go and do the things she's always wanted to do."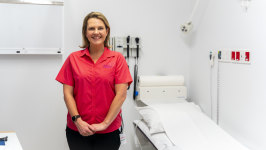 Ms Gordon says she is thriving despite COVID-19. "I'm not shy about sharing my stuff because too many young people think it won't happen to them," she says.
Tim Barlass is a senior writer for The Sydney Morning Herald