This was published 4 months ago
Knee-jerk switching of super fund investment options rarely pays off
Superannuation fund members who panicked during the COVID-19 induced sharemarket meltdown in early 2020 and switched to their fund's ultra-conservative "cash" option will be worse off in retirement than if they had done nothing.
While a typical "balanced" investment option, where most workers have their retirement savings, returned 12.5 per cent during 2021, "capital stable" options returned 5.5 per cent, while "cash" options returned just 0.1 per cent, estimates of returns made by SuperRatings show.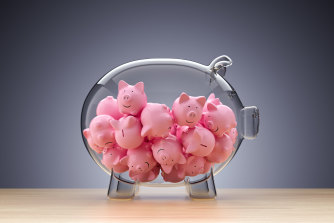 During 2020, the typical balanced option returned 3.3 per cent, capital stable produced 2.2 per cent and cash produced 0.5 per cent.
During the sharemarket sell-off during March and April 2020, many fund members switched to cash investment options, or to a more conservative diversified option.
However, sharemarkets later went onto to rally around the world to recover almost all of their losses, leaving those invested in cash and conservative diversified options who did not quickly switch back far worse off than if they had done nothing.
Super funds offer a range of diversified investment options from which members can choose that hold various asset classes in differing proportions, as well as single-asset class options, such as Australian shares.
Balanced options, the most popular type, have about 30 per cent of their total pool of money invested in Australian shares and about 20 per cent in global shares, making equity market performance the main driver of their returns.
Recent research conducted by Griffith University and IRESS into super switching found the ease with which fund members can change investment options with the press of a button is "something of a double-edged sword – especially during a crisis like COVID-19".
Following analysis of thousands of  switching decisions, the researchers found a near-tripling of members switching their investment options from the start of the pandemic.
"Alarmingly, there was a 50 per cent increase in poor superannuation switching decisions as the pandemic progressed, with 'bad' switches defined as having a negative impact on super balances compared to doing nothing," the authors of the research say.
"The ease with which members are able to switch through online channels, combined with heightened consumer awareness of fluctuations in financial markets, led to an increase in both switching activity and negative outcomes for members."
Many super funds have added notes to their websites warning their members of the dangers of switching options during times of sharemarket volatility.
AustralianSuper told members last year that negative returns of sharemarkets during the first quarter of 2020 caused some members to panic and try to minimise losses by switching to more conservative investment options, but doing this "meant some members locked-in losses, as they sold when markets were down".
The super fund noted that "sharemarkets quickly recovered to their pre-pandemic levels... but unfortunately, many members who had switched investment options didn't switch back to their original strategy".
"This had a double-negative impact on their savings, as they sold when markets were down and didn't get back into the market to benefit from the recovery."
Advice given in this article is general in nature and is not intended to influence readers' decisions about investing or financial products. They should always seek their own professional advice that takes into account their own personal circumstances before making any financial decisions.