Talking to your plants? Sleepless nights? You're not alone
Michele Lee's Single Ladies was written well before the world was rocked by the global pandemic. Its subject matter, though, is more relevant than ever.
Commissioned by theatre company Red Stitch, the play revolves around three women of different generations, each representing a certain wave of migration. They have different cultural backgrounds, life experiences and attitudes, yet they form strong relationships and learn from each other.
Red Stitch's artistic director Ella Caldwell says she relates to the characters in a different way now, having experienced a version of their lives during the past six months of lockdown in Melbourne.
"I have had moments of talking to my plants, we have all had sleepless nights, we have had instances of tearing up over something that wasn't a big deal," she says. "It does resonate in a new way because there's probably more empathy for what it is to live alone or to be alone. More people have experienced what it's like to not have the degree of social interaction that we're used to."
Themes of isolation and seeking connection will strike a chord, she says. "So even though the play is not focused on the experience of COVID-19 at all, and nor are the audio monologues, they do lend something nice to this time, because the women are in their own versions of isolation."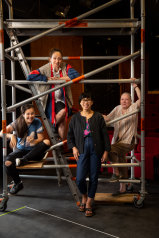 Single Ladies was in preview stage when coronavirus hit and theatre doors slammed shut. Caldwell determined that Red Stitch's focus should remain on core business. Rather than creating videos or doing readings, she wanted to make something that allowed Lee and the whole team to keep exploring the characters.
The result is three audio monologues, each a standalone piece written by Lee, which provide a glimpse of the characters' lives before they meet. The entire Single Ladies team was involved: director Bagryana Popov, actors Jem Lai, Caroline Lee and Andrea Swifte, sound composer Elissa Goodrich and dramaturg Emilie Collyer.
It's not the first time the theatre group has produced an audio work, though it is the first time a piece was commissioned to stand alone. In 2014, Michele Lee wrote a piece as part of the site specific Playlist, which saw audience members enter a darkened room to listen to an aural work.
Caldwell says the new audio monologues "sparked something" and the company has another underway. She's excited about the level of visualisation you can have when listening to an aural piece.
Red Stitch is artist-driven and the 20-strong ensemble meet weekly – via Zoom under shutdown.
During the past six months, the organisation has focused on its INK program, which develops new work by Australian writers. Caldwell credits philanthropic support as well as Creative Victoria (the state government) for making that possible. She has also been blown away by the number of subscribers who donated unused season tickets. "Many people are going through a tough time so there was a huge amount of generosity there."
Even so, she says, it has been difficult. Four permanent staff were able to access JobKeeper, but the ensemble and associate artists are freelance and contracted, so couldn't.
"It's been tough and I think quite frightening for freelance artists. I've modelled more scenarios than I could count. There's a lot of new territory to navigate in terms of what we can do when we do come out of this," she says.
Some of those ideas include performing outside and exploring alternative spaces in which to stage work, as long as the environment serves the production and adds to the experience for audiences. Known for its intimate shows, Red Stitch's main space in St Kilda seats up to 81 people. With social distancing measures, that could become just 20.
Caldwell says not being able to stage works has been devastating. "Our industry, even at the best of times, experiences a lot of highs and lows and a lot of mental health challenges and so all of those things have been exacerbated during this time but we've still managed to come together every Tuesday to come together and consider our opportunities."
As Red Stitch heads into its 20th season, this pause has allowed a big rethink. "There's an opportunity artistically to go, 'What do we want to hold onto? What do we think we can change that we never considered before?"… so many new perspectives offered at this time. Anything can change, nothing is set in stone anymore."
Caldwell hopes next year will provide an opportunity to rejoice in what Red Stitch does best. "Coming together with an audience is what we do, the atmosphere when an audience and the actors come together that is something we can appreciate and celebrate," she says. "It's an essential part of life that we've been starved of for nearly a year. I hope the hunger for that will be a trademark for next year."
Visit redstitch.net to download the audio.
Kerrie is a senior culture writer at The Age and The Sydney Morning Herald