Much-loved theatre set to reopen
Kirribilli's Ensemble Theatre is the latest of Sydney's theatres to stir from their pandemic-enforced slumber, announcing a 2021 season of seven plays that will open in mid-January.
For artistic director Mark Kilmurry it has been a long and tortuous road to reopening after the lights on the much-loved neighbourhood theatre were suddenly dimmed in mid-March.
The show that had just launched at the time was the world premiere of Crunch Time, David Williamson's final play before retirement.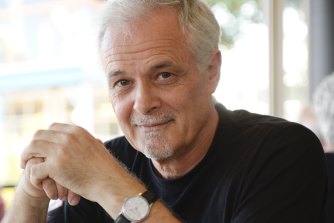 "That morning we had a matinee, and after that I cancelled the show and we went in on the evening to film the show to send it to the subscribers so they could see the play they had booked tickets for," Kilmurry says. "A lot of people watched it at home, which was lovely."
Kilmurry says the generosity of subscribers has been one of the reasons the theatre has been able to survive the prolonged shutdown.
"Lots of our subscribers donated their tickets and if they didn't donate they turned into a credit," he says. "Even the people who had refunds said they would be back but just couldn't do it at that moment.
"The generosity has been overwhelming. It also makes you realise just how much the Ensemble is a part of the community. It takes things like this for us to go, 'Wow, it belongs to the community as much as it belongs to us.'"
In addition to subscribers' donations, theatre staff have taken a 30 per cent pay cut and the company has also been buoyed by financial assistance from Create NSW.
"[But] of course we lost all our actors and designers and creatives and directors so there were lots of people who were suddenly not in the building which was devastating for them and for us," says Kilmurry.
Ensemble's 2021 season opens on January 15 with a stage adaptation of the hit local comedy Kenny, starring Ben Wood. As it stands, only 110 of the seats in the 220-seat theatre will be able to be occupied, plus there will be all the other usual restrictions and protocols in place at the venue.
Programming 2021 under the new rules has been tricky, Kilmurry says, and there is a good reason he has chosen to open with a one-man show, making it easier to adhere to social distancing.
As the season progresses, cast sizes will grow, culminating in David Williamson's Nearer The Gods, which featured a cast of nine when it played in Brisbane in 2018.
Kilmurry has also been careful to avoid programming anything too dark at a time when everyday life has taken such a sombre turn for many.
"I think what we need is a bit of entertainment and uplifting messages," he says.
Nick Galvin is Arts Editor of The Sydney Morning Herald