Opera Australia performers ordered to self-isolate after construction worker tests positive to COVID-19
Dozens of musicians and performers associated with Opera Australia have been ordered into self-isolation and the company's winter season thrown into disarray after a construction worker at the Sydney Opera House tested positive to COVID-19 and Sydney's lockdown was extended one week.
Members of the orchestra, performers, technicians and creative staff of Otello were in rehearsal at the time the subcontractor working on the Concert Hall refurbishment was considered potentially infectious.
An internal memo from Opera Australia viewed by this masthead and sent to staff late Tuesday evening advised all who attended the Opera House across six days to test and self-isolate. The isolation order extends to their families and other householders. The health order is expected to capture members of the orchestra as well as principal singers.
Opera Australia's chief executive Rory Jeffes also announced to staff Wednesday that performances of Aida, Atilla and next week's Otello opening night had been postponed and its winter season was under review.
Assuring those affected of their access to paid pandemic leave, Opera Australia said: "We appreciate that this news may cause concern or anxiety for some staff. Your patience and resilience during these ever-evolving challenging times is acknowledged and greatly appreciated."
Sources say performers and the orchestra had been in rehearsal during Sydney's lockdown in readiness for a swift return to the stage for the first scheduled performance of Otello.
As part of preparations, the production was in sitzprobe, rehearsals where the singers perform with the orchestra, often for the first time bringing the two parts of the opera together.
It has not been confirmed who authorised the rehearsals with some affected staff privately questioning why they had gone ahead under current health orders.
NSW Health referred the question to the Sydney Opera House, which said all on-site operations during the stay-at-home period had been conducted in line with health guidelines. This included conducting work that could not be undertaken at home.

"Only required staff were on site for rehearsals in preparation for performances resuming, operating in line with strict COVID safety plans and protocols," a Sydney Opera House spokesperson said.
The contractor worked at the Sydney Opera House from July 1-3 and July 5-6 while potentially infectious. While the contractor did not have contact with the public while working, a NSW Health spokesperson confirmed a "number of other people working at the Opera House on these days have been asked to be tested immediately and isolate until they receive further advice".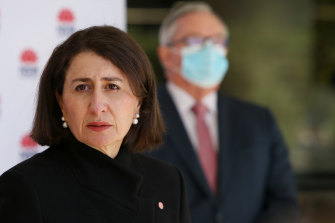 As a result of the positive COVID case, Mr Jeffes told staff the Sydney Opera House was expected to remain shut for the period of the extended lockdown announced by the NSW Premier Gladys Berejiklian.
Media, Arts and Entertainment Alliance wrote to Opera Australia before rehearsals started on behalf of its members asking for assurances that they would meet health and safety obligations. The union was told they would be compliant and is now awaiting further details.
Opera Australia said it had followed the advice from NSW Health and worked closely with the Sydney Opera House regarding COVID-safe plans and protocols to ensure the safety of its performers and staff: "We are not in a position to comment on individual cases or incidents."
The breakout is a setback to the ambitions of Opera Australia, which in the wake of the pandemic and according to Mr Jeffes had been "bleeding cash at an incredible rate" in 2020.
The company suffered a $6.4 million operating deficit on the back of a $63 million collapse in box office revenue. Mr Jeffes had also predicted another difficult year and a "significant loss" as the national company struggled to recover "from its biggest financial crisis in the company's history".
But it is a blow, too, to the wider performing arts sector that had diligently kept to strict COVID-19 public safety conditions to keep theatres open.
The Morning Edition newsletter is our guide to the day's most important and interesting stories, analysis and insights. Sign up here.