This was published 4 months ago
Village Roadshow trapped on COVID-19 rollercoaster
The owner of Village Roadshow says its ongoing viability hinges on the Omicron wave not triggering new restrictions on its cinemas and theme parks, after suffering another heavy loss due to the COVID-19 pandemic.
VRG Holdco, the entity that owns the storied business, ran at a net loss of $35.8 million in the 12 months to June 30, 2021, according to accounts lodged with the corporate regulator on December 20.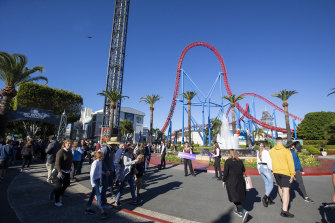 That result compares to a $117.4 million loss in the 2020 financial year and a $6.6 million loss in the pre-pandemic 2019.
Private equity firm BGH Capital - set up by former Macquarie Capital banker Robin Bishop, and ex-TPG bosses Ben Gray and Simon Harle in 2017 - bought the Village business in December 2020 and delisted it from the ASX, in a deal that valued it close to $586 million.
VRG Holdco's accounts show the financial strains of a business hit hard by COVID with its directors saying it had been "significantly impacted by COVID-19" as the virus caused the intermittent closures of its cinemas and delays to the release dates of major new films.
Village's Gold Coast theme parks – which include Warner Brothers Movie World, Sea World and Wet'N'Wild – were also battered by social distancing requirements and loss of visitors due to border closures.
In 2021 the group's Gold Coast theme parks ran at a $4.6 million loss and its cinemas ran at a $1.8 million loss, while its film distribution business delivered a $4.6 million profit.
VRG Holdco's directors said the business remained a going concern, but based that on the assumption that its theme parks and cinemas could operate free from major COVID-19 disruptions.
"The group's cash flow and operating forecasts assume that there will be no further government mandated lockdowns or closures of the group's cinema and theme park operations, other than those which have occurred and are occurring at the date of this report," the accounts say.
While the Omicron outbreak has not triggered new lockdowns, state governments have reintroduced measures including compulsory mask-wearing indoors, including in cinemas, in an effort to curtail rapidly growing case numbers.
There is also evidence that cautious Australians are cancelling travel plans and leisure activities as numbers grow. ANZ said last week that consumer spending had plunged to lockdown levels, while Virgin Australia on Monday cancelled about a quarter of its flights over the next two months due to dampened travel demand and staff shortages.
The company's $229.6 million revolving debt facility was due to be repaid on January 15 this year, but in October, its lenders agreed to extend the maturity date to July 31 next year.
VRG Holdco said it was compliant with its debt covenants at June 30 last year. The covenants have been modified and will be tested again at June 30 this year. Net debt was $228.5 million, the accounts show. The company had $168 million in cash on its books.
The group also received $16 million worth of payments through the JobKeeper wage subsidy in 2021 and another $3.9 million from the federal government's Supporting Australia's Exhibiting Zoos and Aquariums program.
The Melbourne-based BGH Capital bought 78 per cent of Village Roadshow in late 2020, with the balance retained by brother John and Robert Kirby - the sons of Roc Kirby, who founded the business in1954 - and former chief executive Graham Burke, who ran it for more than 30 years.